In our corner of Ghana—as in many parts of the country—clean water is scarce. The lack of access to clean drinking water is a prime contributor to disease and affects overall quality of life; meanwhile, many families—including children—are forced to make long and arduous treks each day just to retrieve water from a remote well or stream, precariously transporting it back to their dwelling place.
Our Well Digging Project
Father's House Ghana is actively involved in making clean water available to those who need it the most. In addition to sharing our own well and city water with our closest neighbors, we have dug and maintain new wells in our community, which provide clean and easily accessible drinking water to hundreds of people, including fishermen who travel through our area.
We hire exclusively local contractors, providing them with jobs of digging wells, making bricks, laying concrete, and ultimately developing clean and sanitary drinking water for public use.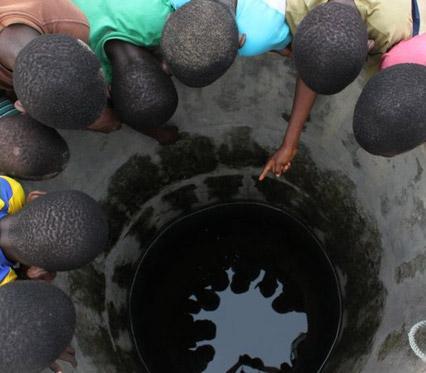 The impact of this work is significant: Many of the folks who live near us can quickly and easily walk to the well to get clean drinking water, something they have never been able to do up until now. Illnesses cause by impure water are becoming less of a concern, and local children no longer face the same high risks of sickness and dehydration.